No matter how well you prepare, you'll always worry about your home while on vacation or away for an extended period. You can hold the mail, inform the neighbors, and set your security system. All those preparations are good.
But have you considered the possibility of water or flood damage while you're gone? ATH can help prepare you as well, browse our blog for more prevention tips.
Water damage goes unnoticed for days, weeks, or even months. Whether it's caused by the city sewage system (learn how to prevent a sewage backup), a supply line leak, AC leaking water or ceiling water damage, you won't know it's happening while it destroys your home. No one wants to come home to water-damaged furniture and ruined personal possessions.
Top 3 Vacation Tips for Water Damage Prevention
1. Gutters and Roof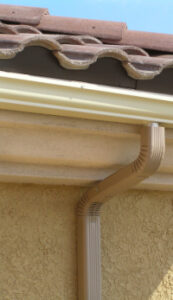 Gutters
Clean your gutters and downspouts at least once a year. Be sure rainwater is directed away from the house.
When debris clogs your gutter system, the water flows down your siding and into your yard, where it compacts the soil and can cause costly damage to your foundation.
Roof
Check your roof for leaks, holes, or loose tiles and make repairs as needed. Trim back plants and trees, especially those near windows and hanging over the roof.
The Arizona monsoon season officially runs from June 15th until September 30th. Water damage prevention is even more important if you are away during the monsoons.
In the unfortunate event, your home experiences storm damage while you're gone, contact us to handle roof leak repair from board-up and tarps to clean-up and reconstruction.
2: Turn Off the Water Supply
Turn the water off at the main supply valve to the house for the best water damage prevention in your absence. You may, however, need certain systems to operate while you are gone, such as the irrigation system or pool pump. This will help prevent any outdoor leaks while you are away.
In that case, turn off the water at each unused plumbing feature such as kitchen and laundry room appliances, toilets, and sinks.
To help prevent sewage backups, ask a friend to stop by once a month while you're on vacation. Have them run water through the pipes (flush toilets, run sinks, tubs, and showers). This helps to keep sewer gases from accumulating in the pipes.
3. Water Lines, Pipes, and Hoses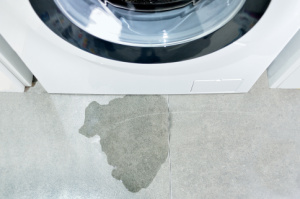 Appliances
Check appliance supply lines throughout your home for leaks. Inspect seals and joints in the pipes. Watch for loose connectors and rust or corrosion.
Residual water lingers in the drain lines of your dishwasher and washing machine. Disconnect the hoses and drain off residual water. Replace aged or brittle hoses.
The most common appliances to leak and cause water damage include the washing machine, refrigerator, and dishwasher. Scrutinize the plumbing, too, like sinks, toilets, bathtubs, and showers.
Add Water Damage Prevention to Your Vacation Checklist
There is a lot to plan and prepare for before you leave on vacation or for a long absence. If you're in the business of property management, sometimes you have unoccupied properties. So, the preparation is worth it to avoid the trauma, expense, and inconvenience of coming home to water damage and possibly a toxic mold problem, too.
And to further help prevent both fire damage and home water damage disasters, whether you're away on vacation or gone for the day, consider smart home devices.
If disaster strikes, review our water damage FAQs and get in touch. Arizona Total Home Restoration provides 24/7 emergency service and a free consultation. Don't forget to check out our customer reviews for yourself.