How To Prepare for the Arizona Monsoon Season and Haboobs
Monsoons cause unexpected flooding when they dump a lot of rain in a short period of time. Six inches of water can knock you off your feet. Your car can float away in only two feet of water.
In addition to the following, stay informed by signing up for weather alerts through Maricopa County.
---
---
4 Tips to Prepare the Exterior of Your Home for Arizona Monsoon Season:
Check your roof for leaks, holes, or loose tiles.
Trim your plants and trees, especially those near windows and hanging over the roof.
Clean out rain gutters or downspouts and be sure rainwater is directed away from your home.
Park your car in the garage to protect it from flying branches.
Pack Emergency Monsoon Supplies:
There is a strong likelihood that both the power and water to your home will be interrupted. It's impossible to predict when these services will be reconnected to your neighborhood. In such cases, prepare the following emergency supplies.
Food and Water
Manual can opener
Flashlight or candles
Batteries
Matches or lighter in a sealed plastic bag
Blankets
A backup power source
A First Aid Kit
Special needs items for medical conditions, children, and pets
A grab-and-go bag
---
Are you experiencing flooding or water damage from the Arizona monsoon season right now?
Don't delay! Call us for a fast response. We'll come to your home, assess the damage, address safety concerns, answer your questions, and begin the restoration process before more damage occurs.
---
Prepare for Flash Flooding:
More deaths are caused by flooding than any other thunderstorm-related hazard. We recommend the following precautions:
Have an evacuation plan.
Secure furniture and other personal belongings to prevent them from floating away.
Learn where higher ground is and how to get there.
Avoid low-water crossings.
Do not let kids play near storm drains or washes after heavy rain.
When in doubt, wait it out or find a safer route.
What About Haboobs?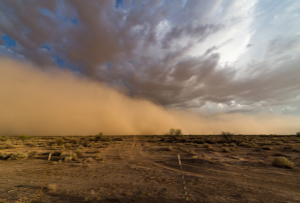 A haboob is a type of intense dust storm carried on an atmospheric gravity current, also known as a weather front. These dust storms are created from the airflow of a thunderstorm or intense rain shower.
The winds driving the haboob will reach 30 miles per hour and blow dust up to 10,000 feet into the air.
Arizona haboobs occur during the summer monsoon season from July to mid September. Haboobs occur regularly in dryland area regions throughout the world.
Haboobs or dust storms are an underrated killer in Arizona. They can reduce visibility almost instantly.
If you are driving during a dust storm, it's best to pull over to the side of the road, turn off your headlights and taillights, and wait for the storm to pass.
When Is Arizona Monsoon Season?
The Arizona monsoon season officially runs from June 15th until September 30th. In the northern region of Arizona, the monsoonal moisture doesn't reach the area until the first week of July. Many seasonal factors occur in spring and summer, which will have a bearing on when the monsoon season exactly begins each year.
Monsoons are triggered when the sun heats the Pacific Ocean and land at different rates. The land heats at a faster rate than the ocean. This creates a low-pressure system as the hot air rises. The winds are forced to shift and fill the vacuum that is formed, which gives birth to the Arizona monsoon and microbursts.
Connect with the Arizona Weather Force for predictions and more information about Arizona monsoon season.
If You've Experienced Flooding, ATH is Ready to Help NOW
At ATH, we understand that having your house flooded is a traumatic and frightening experience.
First, it's important to remember you aren't alone during this difficult time. ATH has helped hundreds of people just like you with water damage and flood damage restoration.
Second, we strongly advise that you don't wait until you see or hear from your insurance adjuster. Any delay can only exacerbate the damage, including the danger of mold and the need for mold remediation. There could also be safety concerns.
Get a fast response, your questions answered, protect your belongings, and a step by step plan to begin the restoration process.
Business owners also depend upon ATH for commercial water damage restoration.
Related Articles:
Storm Preparedness
Home Water Damage FAQs
Storm Damage Repair
Steps to the Water Damage Repair Process