The Easy Way to Remove Popcorn Ceilings for Phoenix Homeowners
Popcorn ceiling removal is not a recommended do-it-yourself project for the average homeowner.
It requires specialized equipment, tedious preparation, is physically demanding, and it's potentially dangerous. The first step is always laboratory testing for asbestos- and lead-containing materials.
Take comfort in our certifications, experience, and meticulous safety measures. Because of our expertise in home restoration for fire, water damage, and turnkey reconstruction services, you know you're getting skilled results.
Why Trust Popcorn Ceiling Removal to the Pros?
Is your asbestos testing result positive? It is within your legal rights to perform DIY Popcorn ceiling removal in your own home, at your own risk. But you cannot legally hire or pay anyone else to do it for you, other than a certified asbestos abatement contractor like AZ Total Home Restoration.
Why? Because asbestos is highly toxic. No amount of asbestos exposure is safe. And the release of asbestos fibers into the air, no matter how little, is unavoidable.
Learn about the EPA's Asbestos laws and regulations.
Anytime you cut into surfaces painted with lead paint (like popcorn ceilings), even if the paint is covered by layers of newer paint, you risk creating hazardous lead dust. Which is why lead paint testing is so vital.
Home repairs that create even a small amount of lead dust are enough to put your family at risk for lead poisoning. ATH is a Certified Lead Abatement Contractor.
Learn about the EPA's Lead Paint regulations.
3. Equipment and Experience
The popcorn ceiling removal process can cause major damage to the drywall, and your health, if not done correctly. Examples of specialized equipment we use for lead or asbestos abatement include:
What is the Popcorn Ceiling Removal Process?
Testing: We offer accelerated laboratory testing for asbestos, lead, and mold.
Containment: After emptying the space of furniture and other items, we display warning signs, and secure heavy-duty plastic sheeting on the floor and walls. We'll also create isolation walls in doorways or openings.
Wetting Process: All popcorn is sprayed with amended water, so that it will absorb easily. The correct amount is needed. If too much, drywall can be damaged making the retexture cost more. If too little, you will create too much dust containing asbestos fibers.
The whole ceiling is scraped slowly to keep dust down, with all popcorn being double bagged and sealed.
The whole room is then HEPA vacuumed and a clear encapsulant is applied over the remaining ceiling drywall.
The cleanup is involved and follows EPA guidelines to ensure the removal of remaining asbestos or lead fibers. It includes discarding debris in hazmat waste containers, removing plastic containment, and decontaminating the area.
We properly package and transport asbestos and lead debris to a licensed transfer station.
A post clearance test is always done and analyzed by a 3rd party to ensure all asbestos fibers have successfully been removed properly prior to containment being taken down.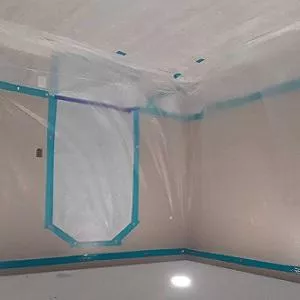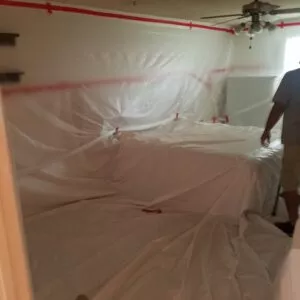 Why You Don't Want Popcorn Ceilings Anymore?
Let us help you count the ways! Beyond potential dangers of asbestos and lead, there are plenty of other reasons to get rid of the cottage cheese on your ceiling for good.
The Advantages of a Smooth Ceiling
There are tremendous advantages when you have your popcorn ceiling removed and replaced with a smooth ceiling.
The light sources in your room will do their job far more effectively. Light spreads and disperses across the entire ceiling to brighten the area and create the illusion of height and space.
Smooth ceilings are far easier to repair than their popcorn counterparts. And they hold up for years in moisture-heavy areas of your home, such as kitchens and bathrooms.
It's an affordable home improvement project that increases the resale value of your home, brightens and modernizes the space, and makes your house a safer place to live.
Arrange an obligation-free quote for your popcorn ceiling removal today.
Only professional testing can verify whether asbestos is present in your building. Call Arizona Total Home Restoration for testing or to discuss your plans and concerns – (480) 207 – 7011.