VCT Tile Flooring Removal
Vinyl composite tile, or VCT tile, has been a popular flooring material for many decades. Today's modern vinyl composite tile is asbestos-free, because it's made with polyvinyl chloride chips (PVC).
However, most brands of VCT tile produced between the 1920s to early 1980s, contained asbestos-based material. Additionally, the black mastic adhesive used to install VCT tile also contained asbestos. For this reason, many homeowners today are undertaking asbestos abatement projects.
Do not sand, repair, or remove older VCT tile in your home or commercial property! Asbestos testing is required before you proceed. This requirement is according to EPA's Asbestos NESHAP Standard on residential properties built before 1981, and it also applies for all commercial properties, regardless of the year built.
Arizona Total Home Restoration provides EPA-trained and accredited asbestos abatement services. See photos of our work as asbestos contractors and browse customer reviews.
Why is it Important to Remove VCT Tile?
Asbestos has been a standard material used in the construction industry because of its fire-resistant nature. Common construction materials containing asbestos include plaster, drywall, popcorn ceilings, pipe insulation (TSI), vinyl composite tile (VCT), and black mastic flooring adhesive. These components were used in homes, particularly in kitchens, as well as in commercial buildings like schools, warehouses and hospitals.
Asbestos is now known to be a carcinogenic agent that causes a damaging lung disease called asbestosis, which scars the lungs, leading to breathing difficulties. This hazardous material also causes mesothelioma, an aggressive form of lung and abdominal cancer, and is implicated in other diseases such as testicular, ovarian, and laryngeal cancers.
VCT tile, when disturbed, releases asbestos fibers into the air. It's exposure to this dust that causes illness and fatal disease.
How to Identify if You Have VCT Tile Flooring
VCT tile was offered in two common types. You can assume your flooring may contain asbestos if it matches one of these descriptions:
The standard dimensions of asphalt asbestos tile is 9×9 and 12×12 inches.
These tiles are characterized by dark hues such as black, gray, or brown because the main binding ingredients are gilsonite and asphalt, both of which are black in color.
Vinyl asbestos tile, also known as plastic tile, was a popular choice for high-traffic areas. Asbestos fibers were assimilated into the vinyl resin during manufacture.
The three sizes of vinyl tiles are: 9×9, 12×12 and 18×18 inches. Vinyl tiles were available in lighter colors, such as green, cream, pink, and blue since they were made with vinyl resin.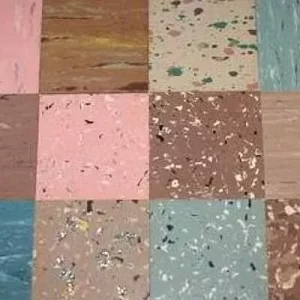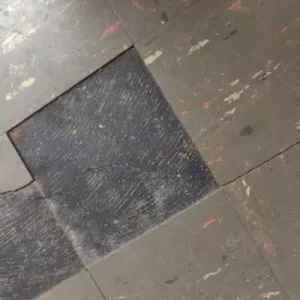 Black mastic is a type of glue containing asbestos. It was commonly used to adhere tiles to the sub-flooring. It's easy to recognize black mastic because it's always black in color and displays an oily texture.
Black mastic asbestos abatement requires certification. The technicians at Arizona Total Home Restoration wear personal protective gear (PPG) and follow strict safety guidelines. We keep the black mastic damp throughout removal to limit the release of asbestos fibers into the air.
If your VCT tile contains asbestos, chances are very high that it was glued with black mastic adhesive. Do not sand, scrape, or otherwise disturb black mastic adhesive!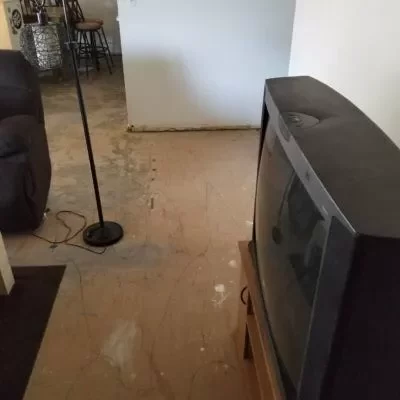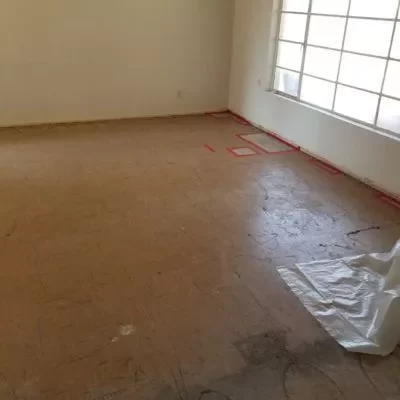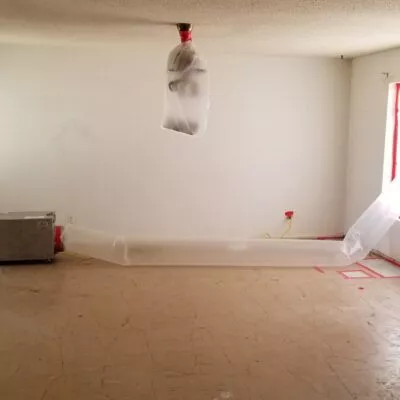 Asbestos Testing and VCT Tile Removal
State and federal law requires property owners to hire the professional services of EPA-accredited professionals for asbestos testing and VCT tile removal.
Arizona Total Home Restoration complies with all relevant agencies for VCT tile removal including the following:
Arizona Department of Environmental Quality (ADEQ)
Environmental Protection Agency (EPA)
Maricopa County
Pinal County
Asbestos National Emissions Standard for Hazardous Air Pollutants (NESHAP)
OSHA
The first step is to collect bulk samples of potential asbestos materials, the surrounding dust, and air samples for testing.
When asbestos abatement is necessary, our services include hazardous waste removal, followed by another laboratory test to ensure safe air quality. Only once we're satisfied that the space is asbestos-free, do we move ahead to conduct repair and reconstruction of your living spaces.
Call for Professional Help
Again, don't risk the health of you or your family! Nor do you want to violate any laws.
Professional laboratory testing is the only way to know for certain whether your flooring tiles or black mastic adhesive contain asbestos.
Arizona Total Home Restoration's trained technicians will check the condition of the flooring for cracks, breaks, loose tiles, or decay, prior to VCT tile removal.
Contact us for a free evaluation of potential asbestos material in your vinyl composite tile flooring. Don't forget to check out our blog!