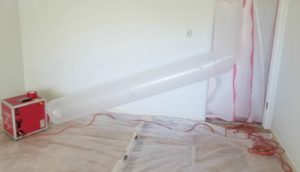 If your home requires water damage repair, it's best to put an emergency call into a water damage restoration company with experience and a stellar reputation.
Most of the damage occurs within the first forty-eight hours. The longer the water sits, the more extensive and expensive water damage repair will be. Our Preparedness Checklist will help you prevent further damage until we arrive.
When Arizona Total Home Restoration arrives on the scene, we generally follow these steps to restore your home as quickly as possible.
Our Water Damage Repair Process:
Assessment
This will consist of a walkthrough of the affected area. Bordering areas will also be inspected. The tricky part about water damage repair is that water can seep into neighboring regions and go unnoticed unless a trained expert investigates.
Water Extraction
Our next step is to remove standing water. This process involves water extraction pumps and vacuums. Water removal is often one of the most significant and most stressful parts of the job. It's a race against the clock. The longer the water sits, the more damage it is doing to the structure and your belongings.
Material Removal
Now we will remove the affected materials. Tear-out of damaged carpets, pad, and drywall, along with any other building materials that are waterlogged, is completed.
Dry Out
A very important phase in water damage repair is drying out the area and getting the humidity from all that standing water out of your home. Through the application of industrial air movers and large fans, the area gets aired out. Our specialized equipment circulates the air and dramatically expedites the drying and dehumidifying processes.
Rebuild
The final phase is to have a licensed contractor rebuild all affected areas to pre-loss conditions. If this is done properly, no one will ever be able to tell the flood occurred.
Browse Home Water Damage FAQs for more information.
You can count on Arizona Total Home Restoration for quick and effective service.